When it comes to running events in the UK, there're many factors that can make your event a good event or a great event. There's plenty of things to consider from organising barriers, toilets, signage, wristbands through to your marketing in the local press or more importantly, your marketing online.
Not definitive.
Although this article won't give you everything you need as everyone's requirements are different, the structure to what forms good tips for running an event can be found within. You will also find some good SEO and social media tips within this article to ensure you get maximum exposure. We have also based this article around the fact you already have an idea of what you're doing and you're going ahead with your idea.
First things first.
Get a word document or use a note taking facility such as OneNote or Evernote. Don't rely on planning your event around lots of pieces of paper which you'll draw on, rip or even worse, lose.
If you are a pen and paper kind of person that's fine but make sure at your first opportunity, you can get your notes, suppliers, phone numbers and to-do list documented on something that's easily changeable and can be shared amongst other volunteers or members of your team. Being able to collaborate things to do and ideas on a live platform can save multiple email chain links.
The event planning basics:
It's important to get on paper, what resources you already have and what resources you need to sort. This will give a clear definition of what needs to be done and then tasks can be assigned to your members
Number of people on your team
What areas of your event need staffing (entry gates, tents, car parking)
How many visitors are you aiming for
Amenities, Restroom and Catering (Toilets Avg: 1000 visitors, 8 hour event w/ alcohol served = 10 toilets)
A set budget for attractions/marketing
Local Impacts - traffic routes consider Traffic Management
Lines of Communication - Walkie Talkies? Phones?
Contingency Plans - Bad Weather/Emergencies
Licensing - Alcohol/Music restrictions - speak to Local Authority
To-do list (Event Schedule)
Insurances
Once you document all of the above, work out what extras you need in terms of toilets, barriers, cones and other items, you should focus on marketing. There's no minimum time in which you can start to advertise although it's good practice to go heavy marketing 2-3 weeks prior to your event. To effectively market, you should take advantage of free advertising on social media and use online event marketing sites.
Communication and Structure:
Structure your crew and assign roles to people to make sure that everyone has one clear job to do to save over lapping, this wastes enthusiasm and can cause confusion if people and companies use different people each time they speak to you.
An example would be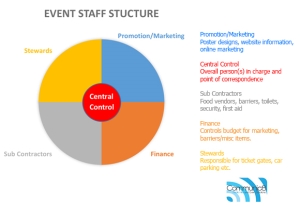 Online marketing:
Get yourself a website if you haven't already. Many people start with a WordPress website as they're quick and easy to build and if you speak to a local web design company, they can normally assist you in getting something basic and professional up for you to edit. Be sure to include some pages on what your event is, where your event is, when your event is and why people should visit.
Maximising your content.
The bad:
There's no point writing about your charity flower show and having 1 paragraph on the about us that says "We are 5 people holding a charity flower show to raise money for XYZ local charity on XYZ date". You need to include some keywording based around where you are, what it is you're doing and why.
The good:
"On XYZ date, a team of 5 people with months of hard work will be hosting a fantastic flower extravaganza for the people of Essex with one key objective, raising money for charity. It's taken 5 months of planning but on the XYZ date, the Big Romford Flower Sale 2016 will be raising money for XYZ charity. We have decided to do this because, in Essex, there are:"
Continue to explain why you're doing it. You'll notice the relation between what the event is, wording associated with the event, words to draw people in such as fantastic, extravaganza and also words relating to the area you are in. Essex, Romford for example. This means search engines such as Google will pick up your information and say "Hey this event sounds good, it's got good information, what - where - when. We will recommend this to visitors who are looking for days out in Essex".
The more positive you are about your event with details of what - where - when - why the more search engines will help you out. With that bit of basic key wording in mind, be sure to include other items on your website as seen below.
Event website checklist:
Include on your website the essentials;-
Event Date on the homepage, in a banner preferably across the top
Directions to your event including local transport if applicable.
Ticket prices and payment information on the homepage
Attractions at your event so people can plan their day
Social Media platforms - where visitors can find out more
Be sure to update your website with plenty of information. Go into detail about what's on, why they should visit, any offers on tickets if bought in advance, any local businesses who are supporting you and donating funds to help you and more importantly, give plenty of updates in the weeks running up to your event with some good pictures to keep people entertained. If you share some new information on your website, market it correctly.
Go on your social media platforms and tell your followers about what you've wrote about. Be sure not to bombard people with the same information over and over, take the time to make sure you're not repetitive.
If you don't have any social media accounts, start by setting up a Facebook page for your event. If you're not sure how to do this, a local web developer would probably help you create a page and an event in return for advertising at your event, a great way to get something for FREE!!.
Next, get yourself a Twitter account and use hashtags people can find you on, such as your area. #flowershow #london #essex for example. Don't use hashtags that don't sound natural such as #bigcharityflowershow. It's always good to include some of the businesses who've sponsored you or helped if they have social media platforms. They'll appreciate the mention and it will help get a bit of a buzz going about your event and make people follow you. You can also advertise in local newspapers or media telling people to find you on your new social media accounts to gain followers.
Event marketing:
There're some great online places in the UK to get your event listed to give you more exposure and even sell tickets on your behalf in return for a small cut. One of the best and most popular places is Eventbrite. Eventbrite is the largest online marketing place for events across the UK. It allows you to create a page for your event, get the word out and manage ticket sales in the process. It's free to setup and won't take you very long at all.
Every event can be different but utilising social media, your website, existing event websites you can truly carpet potential visitors with many ways and means of finding out about what's on and why they should come to you, after all. You want all that hard work and those late nights of planning to pay off. It may sound daunting but once you get settled in with information, pictures and ways you can be found, the visitors and exposure will soon follow.
Need more help?
If you're planning events in the UK and need help, guidance or assistance, we have years of event planning experience along with event planning schedule templates and risk assessment templates to make your life doing event management a little easier. Contact Us