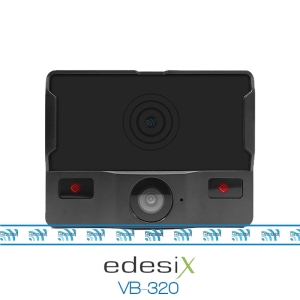 The VB-320 bodycam is part of the VB-300 series of Body Worn Video Cameras. The 300 series are the first gen of WiFi enabled bodycams manufacturered by Edesix. As of 2019 Edesix are now part of the Motorola Solutions family.
The VB-320 camera is extremely simple to use, tactile and easy to use buttons and simple start/stop recording capability.

Simple to operate and simple to deploy
The camera features a wide 130 degree point of view (Horizontally), it peforms exceptionally in both day & night conditions and has RFID touch-assign enabled, In simple terms, you can touch and go with auto camera allocation to users.
Packed with smart features.
In the heat of the moment, it can be easy to forget to press record. The VB-320 has your back with intergrated pre-record. This is customisable for up to 4 minutes meaning that everything pre-incident taking place is caught. The build up to an incident is vital when presenting footage as evidence.
Market Leading legal features and Accountability.
Bodycams work 2 ways. They protect the user but also protect the public. It holds both parties for accountability and a hugely detailed audit trail in the VideoManager software shows indepth tracking of cameras, incident creation, logging and filing and also sharing and viewing of the footage proving concrete legal practices when presented in court.
Cameras and the data are TAMPERPROOF and also ENCRYPTED. If a camera is stolen or defaced. The video data is useless to the end user. Ensuing you remain fully legal and compliant.
Data Protection
To ensure you don't keep unwanted and useless footage longer than is required. The VideoManager software can be customised to ensure data retention periods mean unused and unwanted footage can be automatically deleted ensuring full data compliance.
VB-320 Camera Specifications
Viewing Angle: 130 Degree Field of View
Encryption: AES 256
Dimensions: 84 x 62 x 30mm
Weight: 100g (no accessories)
Storage: 32GB
File Size: 2GB at HD resolution
Resolution: 1280x720 HD - MP4
Low Light: Night Use down to 1 lux
Battery Life: 48hours (standby time).
Battery Life: 7 Hours (Record time).
Recharge: 4 Hours (From flat)
WiFi Capable: Livestreaming available
Buttons: Customisable x 3
Audible Warning and LED Record Lights
Large tacticle Record button
Weatherproof IP65 Rating
All compliance controls built in as standard.
RIPA compliance
(The Regulation of Investigatory Powers Act 2000). VideoBadge does not require RIPA authority to use, as is overt recording.
Surveillance compliance
VideoBadge front display, access restrictions and system controls for data management, provide compliance to Home Office - Surveillance Code of Practice
Data protection
VideoBadge encryption-protected recordings, access restrictions, system controls and audit trail for Information Commissioner Office compliance.
Accessories
Fixed & Tilting Klick Fast, Crocodile style shirt-clip, sports-camera mounting are all available for the VB-320. If you wear any tactical clothing, vests and utility jackets. The KLICK FAST mounts are industry standard for Police, Fire and Ambulance service staff.